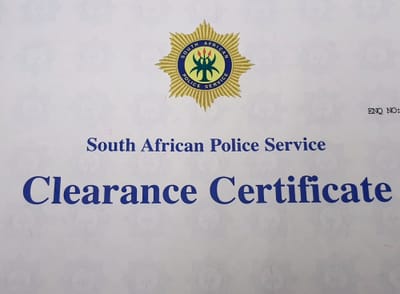 Police Clearance Certificate Service. We can assist with obtaining and leglising your Police Clearance Certificate.
If you are applying for employment or studying overseas you will probably be requested to produce a legalised Police Clearance Certificate. The certificate invaluable to ensure that a candidate is suitable for the position or for residency purposes.
What is a Police Clearance Certificate
A police clearance certificate is an official document issued by the South African Police Service and the Criminal Record Office in Pretoria. Based on official records and checks, it provides information about any criminal record you may have.
Process
We collect, deliver and expedite Police Clearance certificates locally, provided that it is not an outline or regional area. .
Complete the Application Form - You will need to fill in details such as all names you have been known by, residential address, date and place of birth and contact details.
Documents Collection We will collect your application at your home or work address, or you can upload the documents online.
Receive your National Police Clearance Certificate
We deliver your completed Police Clearance Certificate to chosen address.
Apply for SAPS Police Clearance South Africa
In order to apply for a SAPS Police Clearance certificate (also known as), you will need to supply a set of complete fingerprints as well as proof of your identity (a certified South African ID or any country's passport), along with our completed application form. On the fingerprint form, your full names and surname, identity number, date of birth and place of birth must also be recorded (see how to fill in the SAPS 91(a) form here).
Complete the process to acquire your Police Clearance Certificate through us, you can have the SAPS Police Clearance 91a (application form) fingerprinted at your nearest police station or fingerprinting company, after which we will handle your documents directly with the Pretoria Criminal Records Centre (CRC).
Get a Quotation
Notary Costs
What is a Notary Public?
WhatsApp - Talk to Us