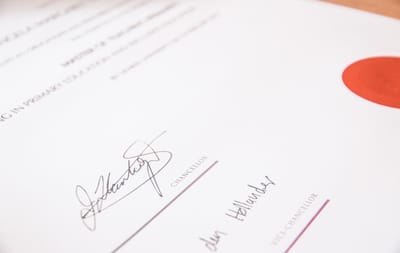 You have located us and have booked your Notary Public appointment.
To make sure your appointment runs as smoothly as possible here are a few things for you to do:
1. The document:
Make sure you have all of pages of your document needing to be signed ready. If you email your Notary a copy of the document to be signed before your meeting, this would be really helpful. This assists the Notary to prepare the certificate in advance and will shorten the time of your meeting. It also helps the Notary to offer you advice on whether you need an apostille or embassy legalisation.
2. Bring the correct identification:
The Notary needs to confirm your identity to make sure you are the correct person to sign the document. It is very important you bring valid identification documents with you. When you meet your Notary you will need two forms of identification which match the name on the document to be notarised. Preferred documents are a current Passport or Driver's Licence both having photo ID.
3. Be Organised:
You can carry out some simple checks to make sure you don't waste your time. Know how many notarisations you need and leaf through the pages to make sure none are missing or are incomplete. Make sure everyone who needs to sign the document is present and has their ID documents. W
Notarising a document is not as always as simple as turning up at the Notary's office and signing something. To make sure your appointment is successful, take the time to follow these tips.