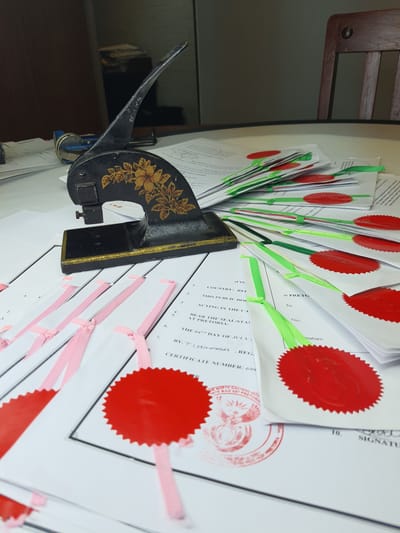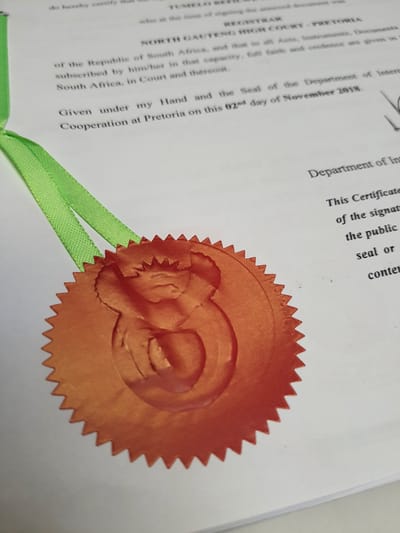 Louwrens Koen Attorneys provides a fast apostille service and embassy attestation to assist you in legalising your South African documents for use overseas. The Apostille Certificate is normally requested by foreign authorities and organisations so that the document can be used for official purposes outside of South Africa. It is also referred to as document legalisation, document authentication or document attestation. Many countries also ask that you get your documents attested by their South African embassy or Consulate.
We provide a complete legalisation service for all South African documents. It may be the first time you have heard of an Apostille Certificate. An Apostille Certificate is only ever required if you have dealings outside of South Africa which involve some form of official paperwork. Apostilles are required for work, business, legal issues and personal matters. The most common requirements for an Apostille Certificate are overseas marriage, registering births, working or teaching abroad, foreign property purchases and business transactions or contracts.
This website has been produced to help you obtain the Apostille Legalisation Certificate and stamp from the correct government office in an efficient manner and to provide you with more information. Please use this site as a resource but should you need to speak to an advisor do not hesitate to call us on our South African phone number 087 0010 733 or see our full contact details on
our contact us page
.
It typically only takes 24 hours to 7 days for the South African Apostille Certificate to be attached to your document. We pride ourselves on offering an expert service, ensuring your document is legalised appropriately.
There are often several ways to legalise a document, but typically only one method will be accepted by the country the document is intended for. This is where our service comes into its own; our vast experience ensures your document is accepted by the authority you intend to present it.
APOSTILLE DOCUMENT LEGALISATION EXPERTS
We can provide apostilles for virtually all South African documents and certificates. Please see our apostille documents page for a guide to some of the documents we regularly process. The process of issuing an apostille certificate varies from one document to another. The key to our service is ensuring your document is presented to the High Court, DIRCO and/or Embassy with the appropriate seals and signatures to ensure the Apostille Certificate is issued without delay and that ultimately your documents are accepted when presented to any interested parties outside of South Africa. We can also translate your documents.
Visit our document translation page for more information. We have been providing this legalisation service since 2010 and have a wealth of experience so can deal with virtually any South African document and also offer further legalisation via individual embassies in South Africa if needed. While your documents are in our possession we take the greatest of care to ensure the security of your often valuable paperwork. Do not leave your documents to chance when ordering an apostille
How to Order or get a Quotation
Most customers order and quote online. Submit online form and we will get right back to you. If you are not sure how to complete the order form or need any advice on additional service do not hesitate to message us for professional free advice. Tel: 0870010733.
Message Us
Get Quotation
Get a Quotation
Notary Costs
What is a Notary Public?
WhatsApp - Talk to Us