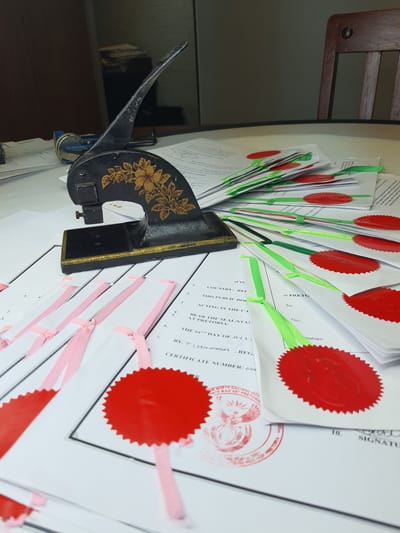 Documents which are being presented for use in a country which is not party to the Hague Convention (relating to apostilles) will often request further legalisation or attestation. This usually involves having an apostille attached to the document and then carrying out further legalisation through the embassy of that country.
This can add considerable complexity to the process as all embassies have different procedures and costs. It is also advisable to ask the person or authority that you intend to present the document to what their exact requirements are.
We have many years of experience in dealing with embassies of various countries so you can rely on us to provide the service of legalising documents for your particular destination country.
As the procedure and cost varies from one embassy to another, and even from one document type to another, it is not possible to list all of the prices for our embassy legalisation services on this website. Working with many of the world's South African based embassies we offer a complete embassy attestation service. We can arrange for your documents to be attested in just a few days. Legalising documents with most embassies is a time consuming and confusing process. Researching the subject and acquiring the correct information can take hours. The processes and requirements of the various embassies constantly change. Incorrectly attesting and legalisation of your documents can be very time consuming and costly.
We can assist. With over 10 years of experience attesting documents with most of the embassies, consulates and High Commissions in Pretoria, South-Africa we know the best and correct methods to promptly complete orders. Knowledge of each embassies document rules, submission procedures and payment requirements ensures we avoid delays and rejected documents.
Totally Comprehensive Embassy Attestation Process.
We take care of the entire process including the necessary attendances at the Court, Governmental Department, DIRCO and the appropriate Embassy, High Commission or Consulate in Pretoria. Our offices are centrally located in Arcadia withing a few kilometers of more than 100 Embassies. Use Us to Apostille, Attest or Legalise your documents and save yourself a lot of trouble and time.
We understand that legalising documents for use abroad can be complicated. We are here to make your life easier. Do not hesitate to contact us for help or advice.
Message Us
Get Quotation