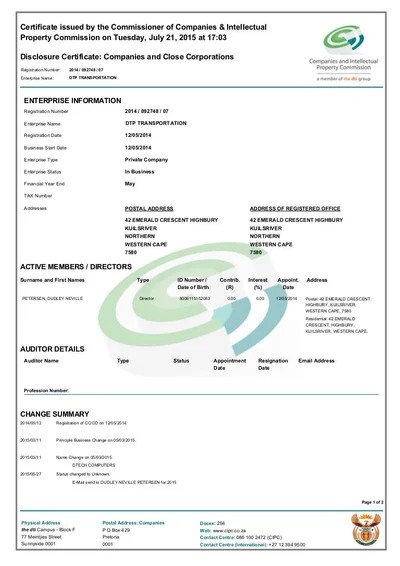 Company Documents issued by CIPC are often legalised for use outside the borders of South Africa. This is done through the Apostille, Authentication or Embassy Attestation Document Legalisation process. There is a range of documents issued by the CIPC registrar of companies that we legalise regularly.
Company documents are usually required when Companies are looking to set up international branches, conduct business in another country or open company bank accounts overseas.
Starting the legalisation of Company documents is simple. We can also help you with downloading or replacing documents.
The most common types of company documents we legalise with the apostille certificate are -
Incorporation Documents - Including the Certificate of Incorporation, Memorandum and Articles
Annual Return
Appointment of a Director
Change of a Director's
Termination of Appointment of a Director
Company Accounts Company Change of Name Documents
Resolutions
Share Certificates and Shareholding Changes
Please ascertain from the destination country precisely what documents are required. Some embassies ask substantial amounts for embassy legalisation of business documents. For this reason, it is vital only to legalise the essential needed documents. When you know which documents need the apostille to start the process by completing our No Obligation Online Quotation and Order Form. We will get back to you with a cost quotation and the estimated time frame for completion.
The legalisation of the company documentation will be different depending on the country where the documents will be used. If the destination country is not a member of the Hague Apostille Convention, the documents will have to be legalised using the Document Authentication Process and probably Embassy Attestation at the Embassy of the destination Country in Pretoria. Please take a look at our informative articles about Apostille Certificate Services and Embassy Attestation Services.
Your company documents must be legalised correctly. Our expert and professional service ensure your documents are checked, certified by a Notary Public when required and issued using the correct document legalisation process. For your information and advice on obtaining an apostille for your documents don't hesitate to contact one of our legalisation office experts.
Click Here to get a no-obligation quotation to legalise South African COMPANY & CLOSE CORPORATION DOCUMENTS for an overseas country.
Get a Quotation
Notary Costs
What is a Notary Public?
WhatsApp - Talk to Us