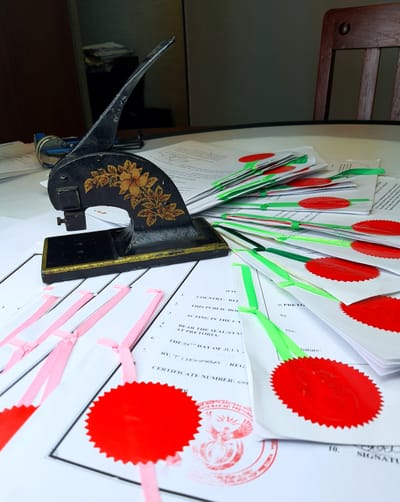 Louwrens Koen Attorneys
offer a full range of Notarial Services, including taking declarations and affidavits, certification of original documents, verification of identity, corporate verification, obtaining of Authentications or Apostilles from the Department of Foreign Affairs (DIRCO) and the High Court and obtaining legalisation of documents from
South African based Embassies or Consulates.
We offer a full range of Notarial Services, including but not limited to the following:
Certification of original documents,
Embassy Legalisation Services (obtaining legalisation of documents from South African-based Embassies or Consulates)
Administer oaths for the giving of evidence.
Witness execution of local and international documents such as Sale and Purchase Agreements, Transfers of land, Assignments of Intellectual Property, Powers of Attorney, Authorities, Deeds, Security Documentation, Mortgages, Company Resolutions, Cessions, Minutes and Reports.
We want you to know that we aim to provide you with an efficient, professional and convenient service, and we look forward to helping you. We deliver a long-standing, highly regarded notarial service known for producing quality and accurate documentation.
Please don't hesitate to contact us – all enquiries are welcome.
Here is a list of Popular South African Public Documents that we notarise and attest daily:
This list is not exhaustive. If you have a document not listed above that needs to be apostilled, please get in touch with us to ask for or get a quote. Should you have any questions regarding our services, need a quote, or want to legalise your documents, don't hesitate to contact us or visit our offices.
Louwrens Koen
is a practising Attorney, Conveyancer and
Notary Public
in Pretoria, South Africa, with more than 25 years of experience. He was admitted as Attorney by the High Court in 1995 after completing the BLC and LLB degrees from the University of Pretoria. He is also a university guest lecturer in Conveyancing and Notarial practice and heads the Law firm Louwrens Koen Attorneys. He has vast commercial and legal experience, and this expertise compliments his activities as a Notary Public. As Notary Public, he has assisted thousands of Clients with their
Notary
, and Document Legalisation needs.
Get a Quotation
Pricing
Notary Appointment Checklist
What is a Notary Public?
WhatsApp - Talk to Us