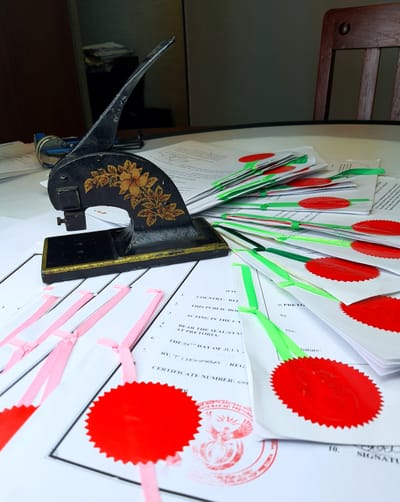 We pride ourselves as being your one-stop-destination for notary and legalisation services in South Africa. Whether you are in South-Africa or abroad, we endeavor to make the difficult and time-consuming process of notarisation and legalisation as painless as possible with the end-to-end services that we provide.
Louwrens Koen Attorneys provides Notary Public services to individuals, large and small businesses, Lawyers, Patent Attorneys, Banks and Statutory Authorities.
We offer a full range of Notarial Services including:
taking declarations and affidavits,
certification of original documents,
verification of identity,
corporate verification,
obtaining of Authentications or Apostilles from the Department of Foreign Affairs and the High Court
obtaining legalisation of documents from South African based Embassies or Consulates.
Our aim is to provide you with an efficient, professional and convenient service and we look forward to being of assistance to you. We deliver a long standing, highly regarded notarial service known for producing quality and accurate documentation.
Please don't hesitate to contact us – all enquiries welcome.
Louwrens Koen is a practicing Attorney, Conveyancer and Notary Public in Pretoria, South-Africa with more than 25 years of experience. He was admitted as Attorney by the High Court in 1995 after completing the BLC and LLB degrees from the University of Pretoria. He is also an university guest lecturer in Conveyancing and Notarial practice and heads the Boutique Law firm Louwrens Koen Attorneys. He has vast commercial and legal experience and this expertise compliment his activities as a Notary Public. As Notary Public he has assisted thousands of Clients with their Notary and Document Legalisation needs.
Message Us Get Quotation
Message Us
Get Quotation